POPE FRANCIS VISITS THE PHILIPPINES
For the predominantly Roman Catholic Philippines, the news for the papal visit on 15-19th January 2015 is a happy and delightful news for the country.
The whole country will celebrate for this event and Malacañang have declared the whole 5 days a special non-working holiday for the catholics to have time to be part and
experience this momentous occasion.
Hereunder is the Pope's visit schedule excerpt from Rappler.com:
Quote
Vatican releases Pope's Philippine itinerary
(UPDATED) Pope Francis will spend more time in Manila than in typhoon-hit Leyte when he visits the Philippines in January 2015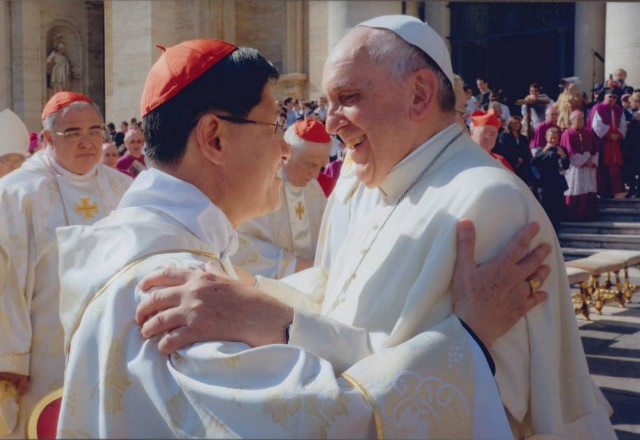 OLD FRIENDS. Pope Francis (right) greets Manila Archbishop Luis Antonio Cardinal Tagle (left) in St Peter's Square, Vatican City, in October 2014. File photo courtesy of Fr Yulito Ignacio.
MANILA, Philippines (UPDATED) – The Vatican has released the official itinerary of Pope Francis when he visits the Philippines from January 15 to 19, 2015.
Manila Archbishop Luis Antonio Cardinal Tagle announced the itinerary in a media briefing on Friday, November 14, that was also attended by Executive Secretary Paquito Ochoa Jr and Communications Secretary Herminio Coloma Jr.
The highlights include the Pope's lunch with survivors of Super Typhoon Yolanda (Haiyan) in Leyte and events in the Manila Cathedral, the University of Santo Tomas (UST), and the Mall of Asia Arena. (READ: Huge Catholic event in UST during Pope's Philippine trip)
The Pope's itinerary is as follows:
January 15
5:45 pm – Arrival in Manila, followed by a motorcade to the Apostolic Nunciature, or the Vatican Embassy, along Taft Avenue
January 16
9:15 am – Welcome ceremony in the presidential palace, Malacañang, with a courtesy visit to Philippine President Benigno Aquino III
10:15 am – Meeting with civil authorities and the diplomatic corps, and a speech by Francis; followed by a motorcade to the Manila Cathedral
11:15 am – Holy Mass with bishops, priests, and consecrated persons at the Manila Cathedral; followed by a motorcade to the Mall of Asia Arena, Pasay City
5:30 pm – Meeting with families at the Mall of Asia Arena
January 17
8:15 am – Departure for Tacloban City, from the Villamor Air Base
9:30 am – Arrival in Tacloban City
10 am – Concelebrated Mass near the Tacloban airport
12:45 pm – Lunch with several Yolanda survivors at the Archbishop's Residence in Palo, Leyte
3 pm – Blessing of the Pope Francis Center for the Poor in Palo, Leyte
3:30 pm – Meeting with priests, consecrated persons, seminarians, and families of Yolanda survivors at the Palo Cathedral
5 pm – Departure for Manila
6:15 pm – Arrival in Manila, at the Villamor Air Base
January 18
9:45 am – Meeting with leaders of various religions at UST in Manila
10:30 am – Meeting with the youth in the sports field of UST, and a speech by Francis; followed by a motorcade to Rizal Park
3:30 pm – Concluding Mass at Rizal Park, Manila
January 19
9:45 am – Departure ceremony at the presidential pavilion of the Villamor Air Base
10 am – Departure for Rome
Unquote
A happy and Christian day to the Philippines